İpek İpekçİoğlu
»When Ipek plays people listen, they dance, they scream, they want more. That goes for Berlin, that goes for Stockholm and that goes for New York. At the moment she's waiting for gigs in Hong Kong and Tokyo, then all the dance floors of this world will be hers.«
Magazine Sylvia, Stockholm, SE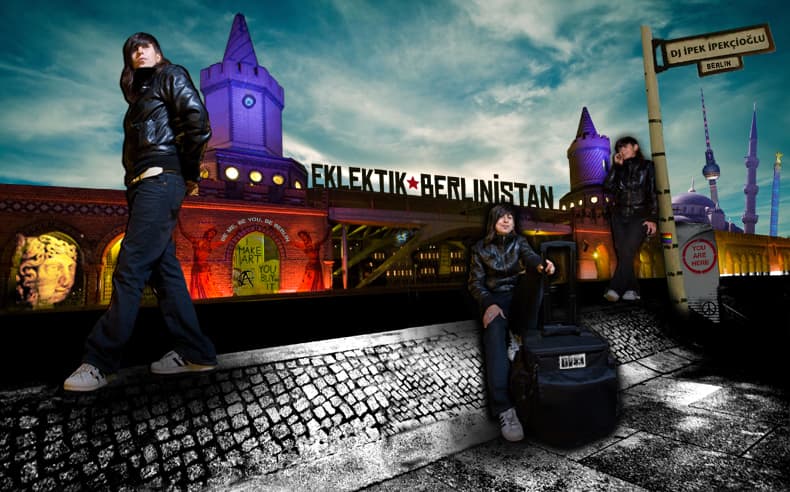 Based between Berlin and Istanbul, queer-living DJ, producer and curator, İpek İpekçioğlu has an established reputation across nightlife scenes worldwide. She has performed her music at the Glastonburry, Fusion, Sziget, At.tension, Berlin Festival and many more international electronic and world music festivals. Ipek has been creating a buzz amongst international crowds from New York City to the desert Sahara of Mali, developing an exclusive brand name with her unique & hybrid Soundmix and she regarded is one of the most popular DJ of the Berlin club scene and internationally as known as Queen of Eklektik BerlinIstan.
In her musical spectrum, psychedelic turkish funk meets disco, balkanfolk to minimal, Anatolian folk to deep house, kurdish halay to electro, turkish tango to break beat, bhangra to moombahton, dabke to reaggaton, albanian folk to twerk, iranian bandari to techno. Her EthnikFolkElektronikMix is free of conventionality, and it refuses to be limited by style, tempo or genres. Her »Eklektik BerlinIstan« sets provide surprising breaks to the steady course of club music today. Inspired by her passion for ethnic music and genre-hopping dance beats, Ipek spins tunes from Turkey, Middle East, Anatolia (Mesopotamia) and Balkans.
At her »electronic only« sets, Ipek takes you into deep-house, tech-house, minimal and techno spiced up with ethnic - folk tunes, fuelled by kicking beats and dramatic basslines.and she creates live-remixes. This vibrant mix has earned her a place as »one of Berlin's most important cultural contributors« [Zitty Magazine]. She proudly carries the title of »MC of cross-cultural understanding« (Daniel Bax - TAZ).
After touring across Spain with NuFlamenco Band Ojos de Brujos and playing at clubs and festivals in Salvador de Bahia, Marseille, Los Angeles, Istanbul, Novosibirsk, UK, Erbil and São Paulo, she made exclusive tours through China, Egypt, Yemen and India. Resident DJ at popular venues such as Gayhane-HomOriental-Party@SO36, Kanakwood-PostMigrantSounds, Berlinale, Radialsystem and Maxim-Gorki-Theater, she also curates the successful Beyond Istanbul Live Sessions, which have been hosting bands such as Brenna MacCrimmon, Fairuz Derin Bulut, Replikas, Bandista, Hakan Vreskala. Korhan Erel.
Aside from DJ'ing, remixing and producing İpek is active as curator and working as the music director of CrossKultur-Festival. For the 1st May event MyFest in Kreuzberg she designs her own stage called ImPort-ExPort, inviting bands to perform for an audience of up to 10,000 people. Last but not least, Ipek also is a board member of the radio station Reboot Fm and a member of the female electronic musicians network female:pressure. She is also a patron of the »Schools without racism - Schools with courage« initiative in Berlin, and leads workshops and lectures about transcultural clubbing. Besides all these activities Ipek shares her knowledge in DJ-workshops and lectures about hybride and queer identities plus transcultural clubbing.
Ipek Ipekcioglu focuses on social-political issues of everyday life and playing with them as an instrument in her musical productions. Ipek has a very political perception related with womyn, immigrant, queer issues and she has a high interest in culturally diverse musical projects that she has curated and participated. Ipek is a wellknown DJ for her live-collaborations with different musicians and for theater, opera pieces, films and documentaries.
As a compiler Ipek is publisher of the award-winning Beyond Istanbul CD series by the label Trikont, and she has released also in Doublemoon Turkey, and at the Berliner Break Beat Label DDR. She has curated »New Sounds of Istanbul« at Radialsystem, Berlin in 2014 and 2015, Berlistanbul#25 , Berlin Festival and she runs her own ImPort-ExPort stage at MyFest in Berlin-Kreuzberg.